How to fix a Crash Dumps error on Steam or difficult without steam.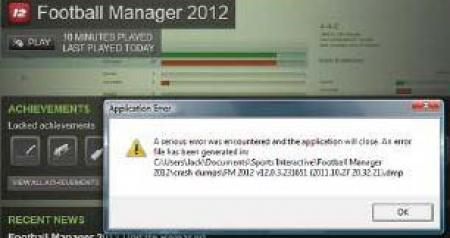 1) Football
Manager
2012 launcing
problem
.Thank you to mention it.I hope you have already done unstalling and reinstalling Football
Manager
2012.If it does
not work
then try to
uninstall
Asus GPI as it is supposed that it conflict with some files.If both the methods above fail to solve your
problem
then try the next one I am going to mention.It was a
problem
of crash damp.So you have to fix crash damp or FM,Please load steam.Afterloding steam go to your
game list
and select Football
Manager
2012 by highlighting.Then right click and select properties.Please select the
local files
tab located on the far right.Then click Verify Integrity of Game Cache.Then click on defragmment game cache amd complete it.Remove,replace any thing you need.Now the files will be replaced and the game will be reinstall.Have a good luck.
2) If this solution doesn't work and you have

BitDefender

installed, there is a known issue with this antivirus.
Add FM.exe to

the list

of exclusions in BitDefender then game should run (how to do that =
Antivirus —> Advanced Settings —> Exclusions and add the
FM.exe)
FM.exe can be found at -
C
:
\
Program Files\Steam\steamapps\common\football manager 2012
If this doesn't work try adding the entire Steam folder to list of exclusions (same process but instead of FM.exe is Steam folder).
Make sure 'Game Mode' is also turned on in BitDefender and that you have the

latest version

. You upgrade by using your 2011 versions licence code.
You can also
uninstall
BitDefender
and Football
Manager
2012 should work, but it is not recommended.
3)
A serious error was encountered and the application will close
.
If any of you get this, this is how to fix it.
*Load Steam. Go library, highlight Football Manager 2012
*Right click, and go to properties.
*Click on the Local Files tab.
*Click on Verify Integrity of Game Cache.
Steam will then go through your Football Manager file, and remove, then replace, anything that needs to be.
Steam will then reinstall the game with the files replaced.
How to Verify Game Cache?
Verify Game Cache
:
1. Load Steam
2. From the Library section, right-click on the game and select Properties from the menu.
3. Select the Local files tab and click the 'VERIFY INTEGRITY OF GAME CACHE…' button.
4. Steam will verify the game's files - this process may take several minutes.
5. Once the process is completed, the Check Window will automatically exit.
If you are still experiencing the same error afterwards on the PC please try deleting the FM.EXE
PC WINDOWS
:
Local Disk -> Program Files -> Steam -> steamapps -> common -> football manager 2012 ->
fm.exe
Upon deletion try the 'VERIFY INTEGRITY OF GAME CACHE…' feature to identify whether this addresses the problem
.
4)
Not using steam to play this. Any other suggestions of how to fix this?
Move your saved game files to another location, then uninstall and reinstall the game. Move your game files back to their original location. Should work fine after that.
*** Άνοιξε το steam, πήγαινε στο library, δεξί click στο fm2012->properties->Local files->Verify Integrity of game cache
Αφού τελειώσει αυτή η διαδικασία (1-2 λεπτά), ΛΟΓΙΚΑ θα σου κατεβάσει κάποια αρχεία. Αφού τα κατεβάσει, άνοιξε το game. Εάν σου βγάλει πάλι error, ξανακάνε την ίδια διαδικασία.